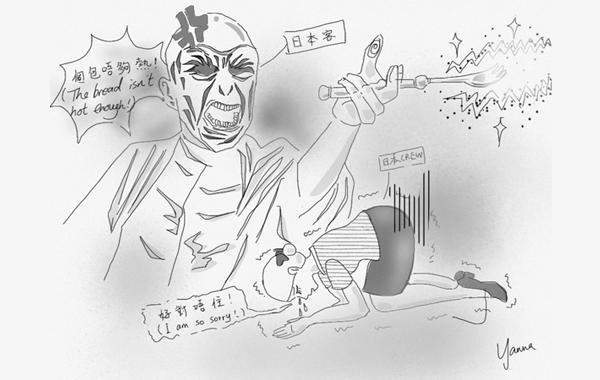 「由現在到下機我不會吃再任何東西!全陪給我拿走!」一位禿頭、又瘦的日本老頭大聲疾呼。整個商務客艙都聽到他。從廚房的門簾窺看,我看到日藉同事差點雙膝跪地,請求佛地魔的寬恕。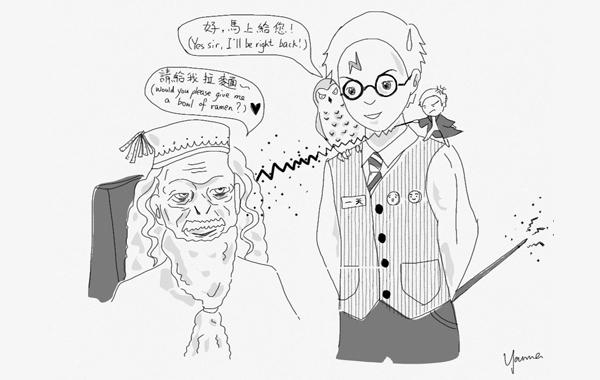 當她手持那老頭子的前菜回到廚房時,各人都好奇地問她事情的經過。「他說麵包不夠熱」她給了個日式長歎。另一位負責加熱麵包的日藉女同事(罪人!)不停向大家道歉,大概她下機後仍掛著那日式「囧樣」道歉面。而那刻我竟然傻得以為在這十三小時的旅程不用再服待佛地魔先生。
數分鐘後「那個不能說出名子的人」決定戴上眼罩休息。為免喚醒沉睡中的黑魔王,我總是躡手躡腳地經過他身邊。
乘客服務燈亮起。不出所料,一小時後佛地魔先生醒過來。顯然沒有人願意上戰場犧牲。「阿哇呾喀呾啦!」在我前住他坐位的十數秒,腦海中浮現出他拿出魔杖指向我的情境。
「ラーメンいただけますか?」(請問可以給我一碗拉面嗎?)佛地魔用最有禮的日語跟我說。我額頭上的閃電形傷疤穩穩痛起來,告訴我他一定是假裝成仁慈的鄧不利多校長。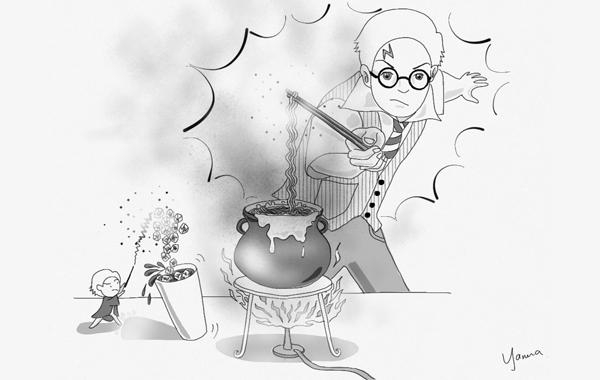 當我全身而退安然回到廚房時,大家都相信我是真正的哈利波特。我們四人立即為佛地魔準備了全球最熱的拉麵和最冷的綠茶。然後在餘下的十小時,他一共了點餐超過六次。
〔如欲閱讀更原汁原味的文章,請按下頁觀看英文版本〕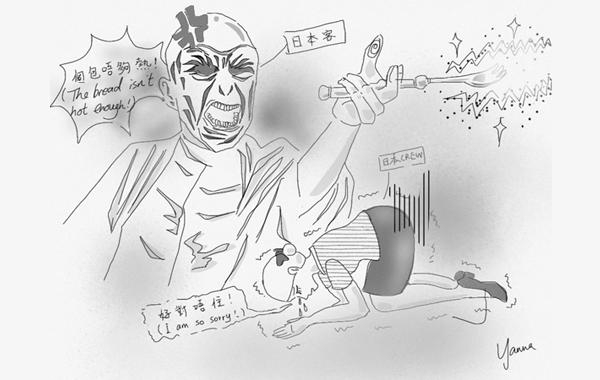 The Coldest Green Tea; The Hottest Ramen
"I'm not eating anything from now on till we land! Take them all away!" yelled a bald and thin Japanese businessman. Everyone in the Business Class heard him, including myself working in the galley. I peeped through the curtain and saw a Japanese flight attendant almost on both her knees, begging for forgiveness from Lord Voldemort.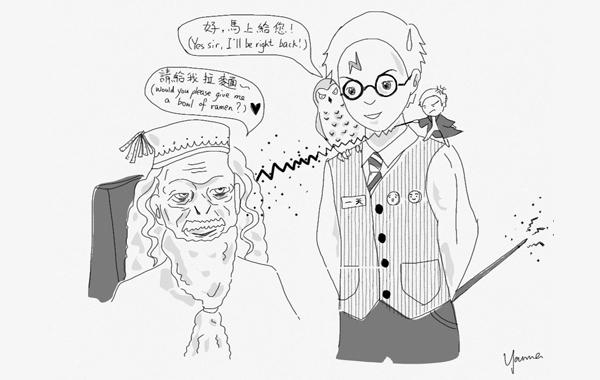 Everyone asked curiously what had happened when she returned to the galley, one hand holding the appetiser. "The bread was not hot enough," she gave a typical Japanese regretful sigh. Another Japanese girl who heated up the bread (the culprit!) kept apologising to everyone. She kept her I-am-so-sorry look probably even after we landed. I was thrilled. For a moment I was naïve enough to believe that I really didn't have to serve him again for the rest of the 13-hour flight.
A few minutes later You-Know-Who decided to put on his eye mask and rested. I tiptoed every time I passed by him, for fear that I would awake the dark lord.
The passenger call light flashed. Unsurprisingly, He-Who-Must-Not-Be-Named woke up an hour later. Nobody wanted to go apparently. "Avada Kedavra!" [The Killing Curse that causes instantaneous and painless death (seriously painless?)], I visualized him taking out his wand on my way to his seat.
「ラーメンいただけますか?」(Would you please give me a bowl of ramen?), Lord Voldemort must have disguised himself as Professor Dumbledore, asking me in the most polite form of Japanese. The scar on my forehead ached, which reminded me not to be deceived.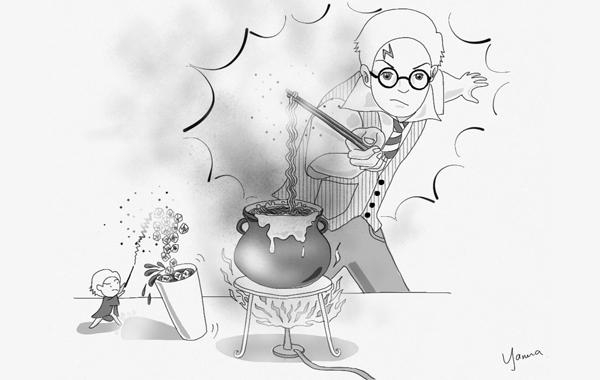 Everyone genuinely trusted my last name was Potter when I went back to the galley alive. Four of us prepared the hottest ramen and coldest green tea ever in human history for him. He ordered food and drinks more than six times after that.